On August 16, the Inflation Reduction Act of 2022 was signed into law, including a tax on corporations equal to 1% of "the fair market value of any stock of the corporation which is repurchased by such corporation during the taxable year."
Details (including the treatment of Accelerated Share Repurchases) will be fleshed out by Treasury regulations, but the statute included an offset or "reduction" for stock-based compensation ("SBC"): "the fair market value of any stock issued by the covered corporation…including the fair market value of any stock issued or provided to employees of such covered corporation…"
While certainly directionally helpful, this blog post examines how helpful in practice the SBC offset is likely to be.
Methodology
We systematically analyzed the cash-flow statements of all current members of the S&P 500 for two line items: (1) stock-based compensation expense and (2) decrease in capital stocks.  While the accounting definition of SBC compensation expense is unlikely to match the fair value of stock issued (due to, among other things, the timing and price difference between expense incurrence vs. the actual issuance of shares, expected vs. actual lapse), we expect that it should be a reasonable proxy when viewed over the long-run.  Decrease in capital stocks includes preferred stock redemption (which is taxable under the statute) and is a net number after taking into account proceeds from issuance (including stock option strike prices), but for most companies should match well with stock buyback activities.
For each of the last 3 completed fiscal years (generally 2019, 2020, 2021) and the aggregate of the 3-year period, we computed the portion of the repurchases that would have been eligible for the SBC offset.  An example from Meta (formerly Facebook) is below:
Meta Platforms, Inc.

2019

2020

2021

3y Total

Share Repurchase ($bn) (B)

Repurchase Offset from SBC

(C = Lesser of A or B)
In 2019 and 2020, the company's SBC exceeded its share repurchases (i.e., its share repurchase program was targeted to offset dilution).  Therefore, we conclude that the share repurchase quantity is 100% reduced by the (greater) SBC quantity.  In 2021, however, Meta's share repurchase increased to $44.5bn, about five times its SBC expense.  In this situation, only $9.2 billion or 21% of its share repurchase is offset.
Full Results
Repeating this exercise across the entirety of the S&P 500 (excluding Financials and Utilities, which often have more complicated equity compensation regimes as well as regulatory capital constraints), we observe the following totals:
S&P 500 ex. Fin / Utes

2019

2020

2021

3y Total

Share Repurchase ($bn) (B)

Repurchase Offset from SBC

Sum, over each company, of Lesser of A or B
Note that in each year, the SBC offset for the full universe is lower than both the SBC expense total and the share repurchase total.  This is because for some companies, SBC exceeds Share Repurchase, while for other companies Share Repurchase exceeds SBC.  In both cases the amount of the offset is limited by the smaller amount (and the excess SBC for one company does not offset the excess Share Repurchase of the other).
Across industries, we see that about 15% of share repurchases are likely to be offset by SBC (higher in 2020 due to COVID-related buyback slowdown).  In other words, 85% of share repurchases would have been subject to the 1% tax over this period.
Although the aggregate amount of offset is relatively low, the aggregates are dominated by the largest companies.  The below chart plots the fraction of companies (out of the ~300 in our universe with non-zero share repurchase quantities) whose SBC offset (as % of repurchase amount) falls in given ranges.  There is considerable variation among companies — with the bulk of companies falling below 20%, but still a sizable percentage with 100% offset.

SBC offsets vary by industry as well, with higher growth sectors including communications services (includes Google and Meta) and technology (includes Apple and Microsoft) representing higher-than-average SBC contributions.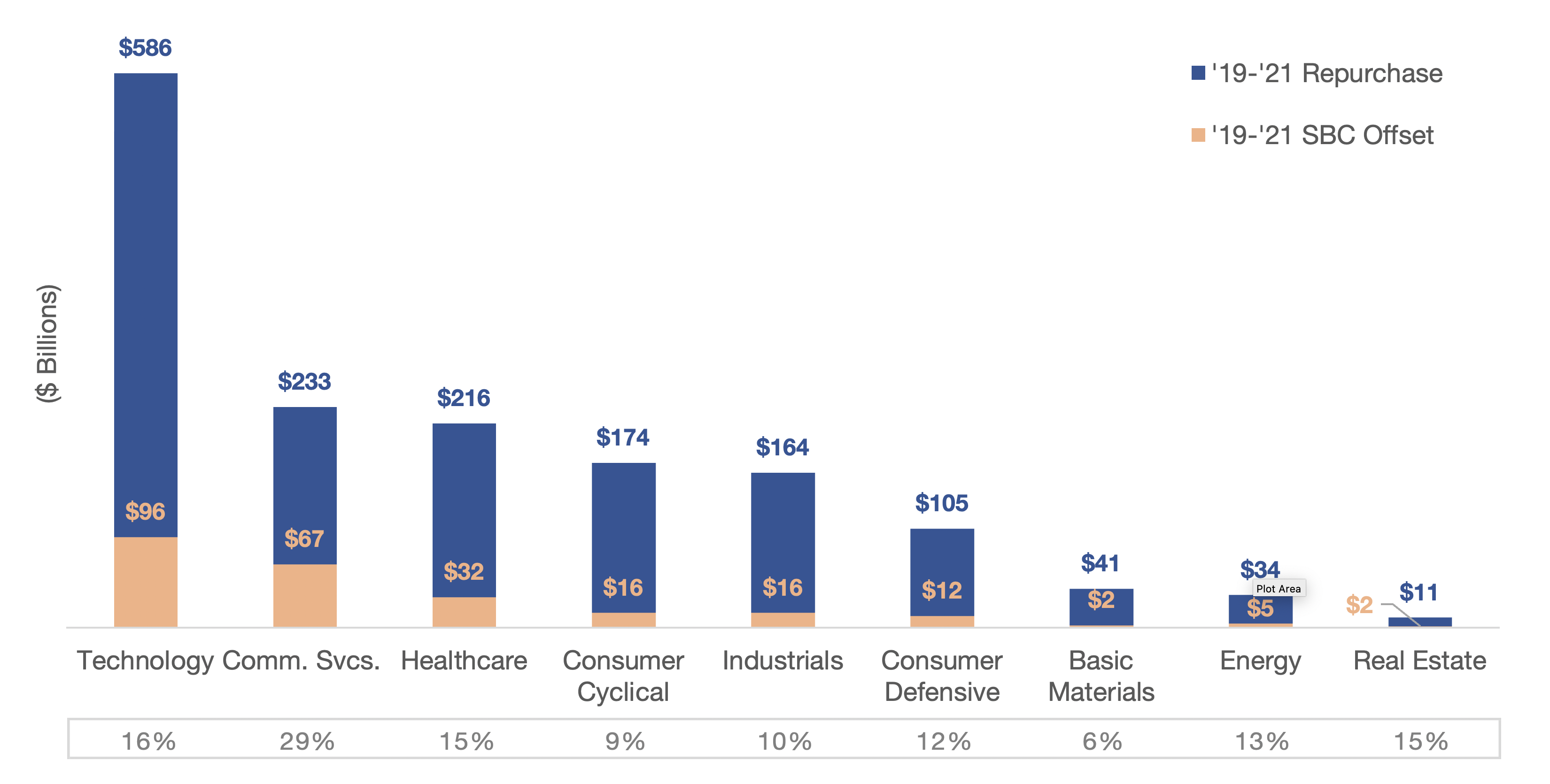 The 1% tax on buybacks is an ongoing development in the market; please check back with Matthews South for further updates and for advice in structuring your share repurchase program to take into account this and other objectives.
Personal Views: The views expressed in this report reflect our personal views. This blog post is based on current public information that we consider reliable, but we do not represent it is accurate or complete, and it should not be relied on as such. The information, opinions, estimates and forecasts contained herein are as of the date hereof and are subject to change without prior notification. The large majority of reports by us are published at irregular intervals as appropriate in our judgment and ability to produce, so updates may not be made or available even when circumstances may have changed.
No Offer: This analysis is not an offer to sell or the solicitation of an offer to buy any security in any jurisdiction where such an offer or solicitation would be illegal. It does not constitute a personal recommendation or take into account the particular investment objectives, financial situations, or needs of individual clients. You must make an independent decision regarding investments or strategies mentioned on this website. Before acting on information on this website, you should consider whether it is suitable for your particular circumstances. You should not construe any of the material contained herein as business, financial, investment, hedging, trading, legal, regulatory, tax, or accounting advice. The price and value of investments referred to in this analysis and the income from them may fluctuate. Past performance is not a guide to future performance, future returns are not guaranteed, and a loss of original capital may occur.
No part of this material may be (i) copied, photocopied or duplicated in any form by any means or (ii) redistributed without the prior written consent of Matthews South, Inc.

Related Articles