As part of our market update series, please see the summary below of what we saw in the convertible market in June. Additional details on all the deals are in the attached.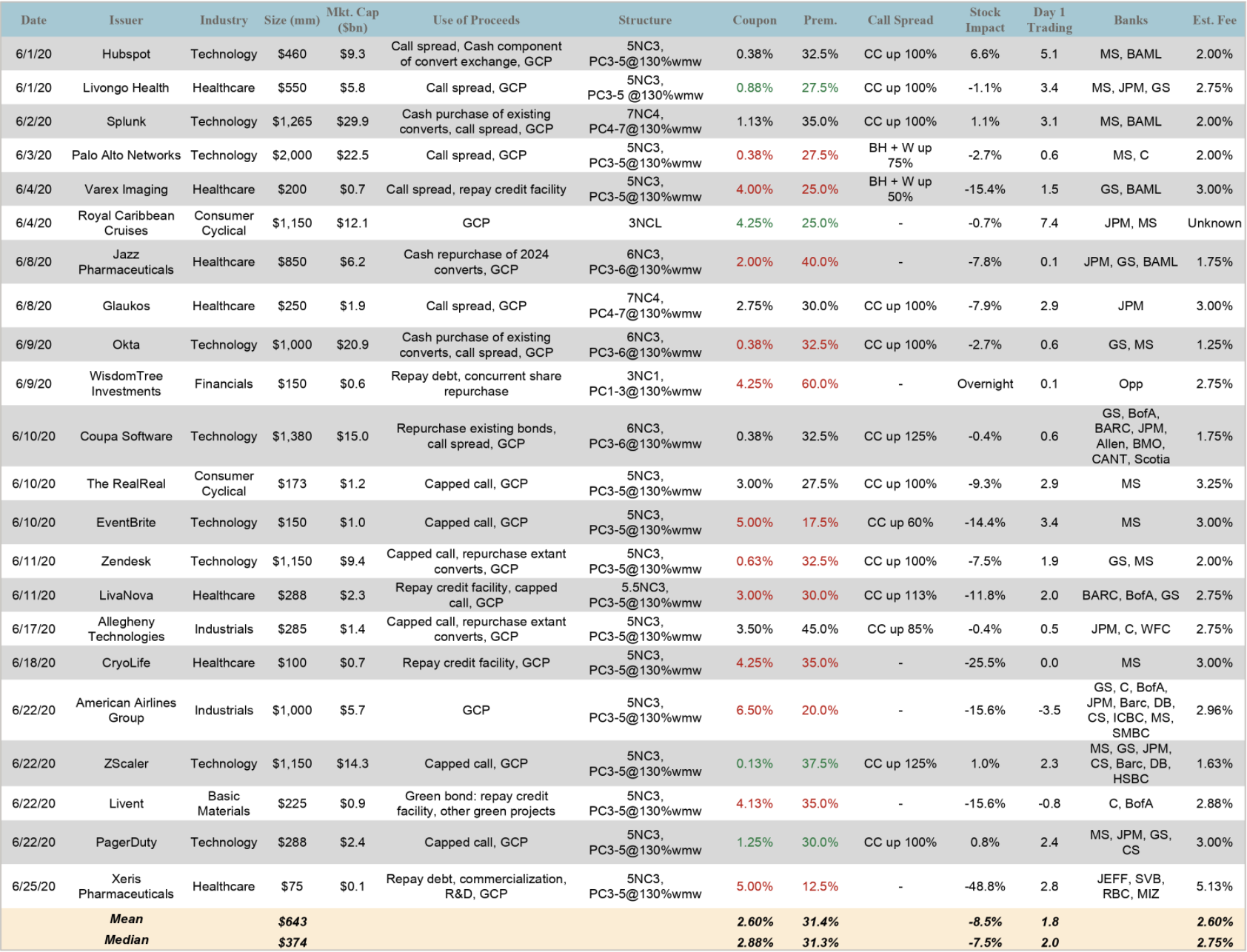 New Issuance. New issuance continued at a rapid pace through most of June (but a bit slower than May), with $14.1 billion of convertible debt over 22 deals. This brings the 1H 2020 total issuance to $55 billion in 103 deals, compared to the full year total in 2018 / 2019 of $41 and $42 billion respectively. Sector breakdown was again relatively diverse, with 9 deals in Technology, 7 in Healthcare, 2 Consumer, 2 Industrials, and 1 each in Basic Materials and Financials.
Terms. In the table below, we compare terms for June deals to previous periods both before and after the Covid-19 pandemic. Terms were broadly consistent with May levels — improved from the worst terms in early April, but still dislocated from pre-Covid levels.

Similarly, the model value of terms was, based on marketing credit / volatility assumptions, 104.1% of par, not as elevated as May's 104.6 mark, but elevated compared to the longer-run norm of 102 (102.2 for full year 2019 average).

Day 1 Trading. After the heavy supply in May led to some market saturation (and relatively poor day 1 trading performance of +0.7 points on average), June was a bit more normalized. Deals on average traded up +1.8 points, more in-line with the long-run average of about 1.5 points.
Call Spreads. Call spread usage rebounded in June, standing at 68% for the month (15 / 22 deals). Upper strikes ranged from up 50% (Varex) to up 125% (ZScaler, Coupa), with a 96% average. The strike price is not quite back to peak bullish mode pre-Covid when up 150% strikes were becoming common, which is likely due to the fact that the conversion premium of convertibles have been ~5 – 10% lower, making the equivalent call spread more expensive. Moreover, pricing of call spreads remains somewhat less efficient than pre-Covid.