As discussed in a prior blog, the new convertible accounting rules in ASU 2020-06 will take effect in 2022. However, companies may early adopt the rules starting in 2021. We summarize the new accounting rules below:
Summary of New Accounting Rules
Bifurcating the bond into debt and equity components will no longer take place; the full principal amount will be booked as debt
For bonds that can only be net share settled, the coupon will be the interest expense and share dilution calculations will remain unchanged (i.e. in-the-money share calculations)
For bonds that can be flexibly settled (any combination of cash and stock), full share settlement is assumed; for EPS, the company will use the more dilutive of coupon through the income statement or the full underlying shares added to share count
The new rules must be adopted for fiscal years starting after 15-Dec-21, although early adoption is permitted for any fiscal year starting after 15-Dec-20
How Many Companies are Early Adopting?
In our previous post, we searched Q4-2020 EDGAR filings algorithmically for key words related to the accounting change for companies that have issued convertible bonds since 2017. We updated the search for Q1-2021 filings. These are of particular interest because they relate to financial reporting periods for which the new standard is potentially applicable.

Below are the top 10 companies by market capitalization that have stated they will or will not early adopt.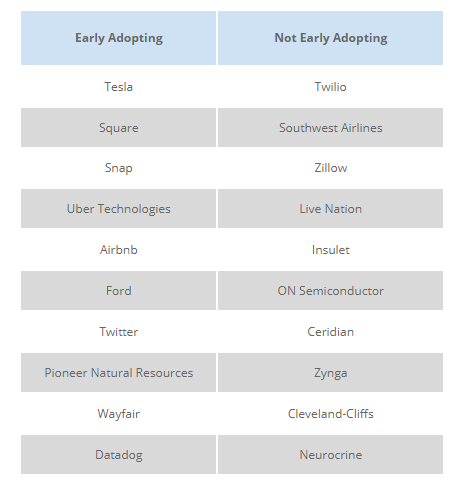 Please do not hesitate to reach out to any member of the Matthews South team with questions on this topic.
Related Articles
Convertible Settlement Changes in Response to ASU 2020-06
Early Adoption and Disclosure Trends for ASU 2020-06