As detailed in our previous post on the topic, in response to COVID-19, companies have been drawing on their revolving credit facilities. We have updated our algorithmic search of SEC 8-K filings to cover the period from March 1st – 27th.
Our update reveals a significant acceleration in revolver drawdowns. We found a total of 218 U.S. companies that drew on their revolvers for a total borrowing of $167.3 billion. This is an increase of $87.5 billion and 133 companies compared to filings through March 20th.
The table below shows the distribution of the revolver borrowings by industry sectors:
Although the activity is concentrated in cyclical companies most directly affected by reduced consumer activity, a wide variety of industries have been affected and are seeking to preserve balance sheet liquidity.
The ten largest borrowings across all sectors were: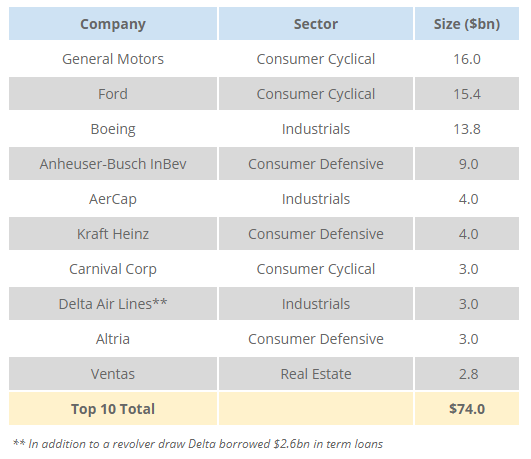 While the technology sector has been relatively less impacted, large revolver draws were executed by Micron Technology ($2.5bn), Applied Materials ($1.5bn), DXC Technology ($1.5bn), Lam Research ($1.25bn), and ON Semiconductor ($1.17bn).