As part of our ongoing market update series, we wanted to take a look at the current state of the convertible markets as we approach the end of summer.
In this blog post, we review the recent trading and issuance dynamics of the convertible market and what that means for issuers contemplating financing before year end.  The key takeaways are:
Convertible arbitrage investors are nearly breakeven YTD even though the convertible secondary market is still down on an outright basis.
August issuance volumes picked up meaningfully though annual issuance volumes are still down significantly relative to recent years.
New issue deals are still trading up modestly, which indicates that the new issue market is open and functioning reasonably in the face of current economic conditions.
Terms stabilized for the last few months though are still wider than where they were at the start of the year.
There is still an efficient market for new issue deals, notwithstanding convertible outright performance and reduced primary issuance this year.  We believe the market is (and will be) receptive to true new-money transactions if trends continue.
Analysis of Secondary Convertible Market
We focus first on the technical trading dynamic in the convertible market.  As explained in our previous post, starting with convertible bond trading prices 1 month ago, 3 months ago, and at YE 2021, Matthews South computes what the trading prices would have been had volatility and credit not changed (but allowing for changes in stock prices and rates).  From this we extract the loss (or gain) that is not attributed to share price moves or rates (as share price moves and interest rates are factors that arbitrage / hedge fund investors, which represent a meaningful part of the market, typically hedge).1
Raw (Unhedged) Move

Hedged Move
Even though the raw (or unhedged) move is down ~22 points, much of that is attributable to macro moves in equity and rates. Netting out these variables, the convertible market has cheapened by about 0.5 points this year; however, if we focus on the last 1 and 3 months, the moves in both hedged and unhedged prices are positive by 2+ points.
Although most convertible investors are still likely down on the year, the stability over the last few months has led to a more favorable sentiment compared to the May / June time frame. We expect this sentiment to carry over post-Labor Day which should also positively impact the primary market.
Primary Issuance Analysis
While issuance volumes in early 2022 were low, issuance from April to July issuance was anemic. There was only $3.3bn of aggregate issuance over that 4 month period compared to an average of ~$8bn every month since the start of COVID. Most of this can be explained by weakness in the convertible (and broader) markets. However, post Q2 blackouts we have seen a resurgence of issuance. In August, we saw over $5bn of issuance across many sectors.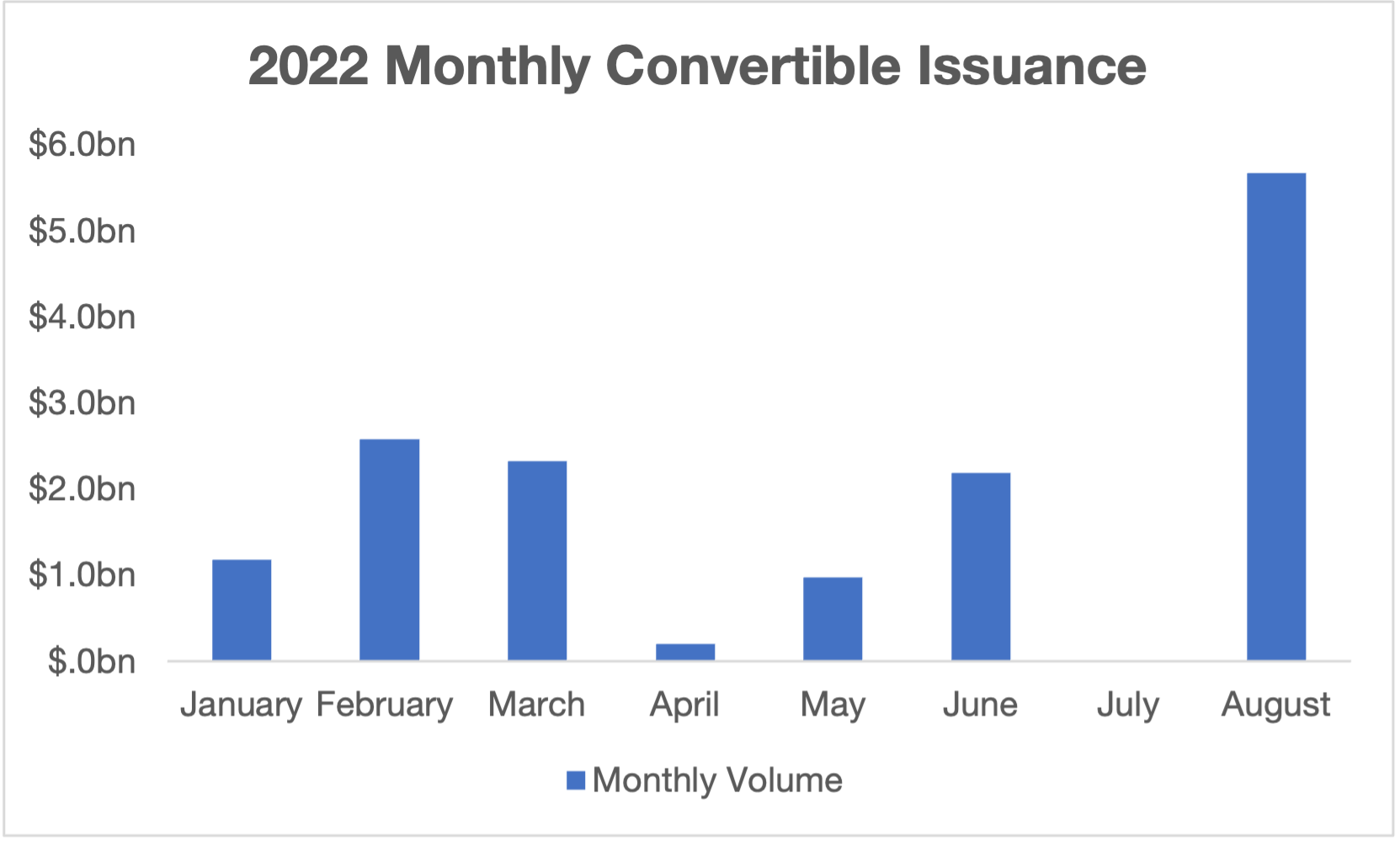 Over the last few months the view from most issuers had been that unless capital is necessary (i.e., defensive or for a tangible use of proceeds), there is no need to go today until sentiment and / or pricing is better.  With the market stabilizing and investors accepting the "new normal", we expect more issuers to come to market over the remainder of 2022.  The current trend of issuance continues to be in the form of refinancing transactions, but we believe the market is (and will be) receptive to true new-money transactions.
New Issue Trading Dynamics
Another factor that plays into new issuance (and volumes) is how deals perform immediately after issuance.  Being able to make money on new issues allows investors to be more aggressive on allocations and terms for further new deals.  The charts below look at how recent deals have performed on a "delta-adjusted" price to account for any move attributable to share price.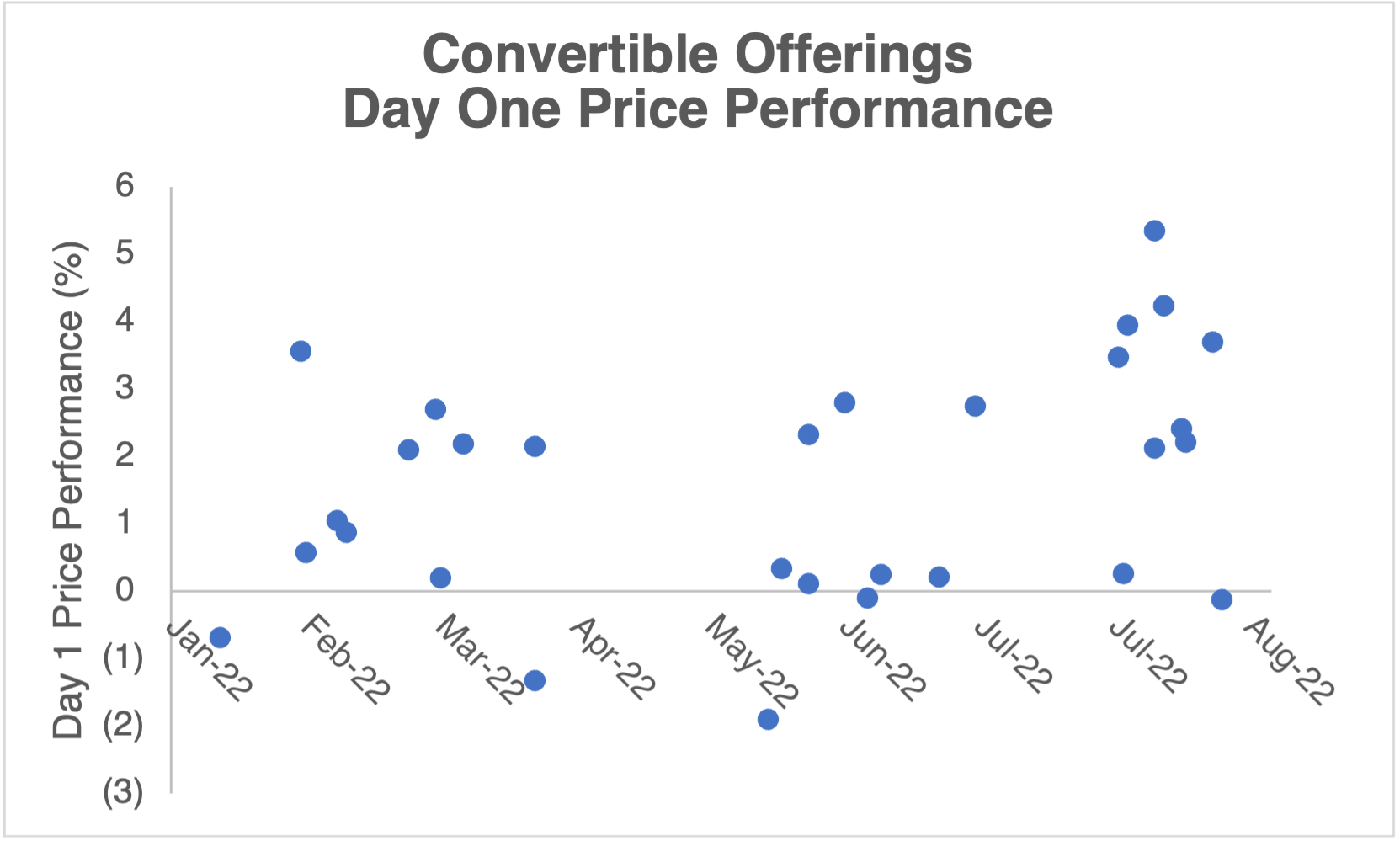 None of the 15 deals since May have traded down on a hedged basis on the first day after issuance.  This implies that hedged convertible investors have made money (at least out of the gate) on every transaction that came to market over the last 3 months.  The more deals "work", the more positive sentiment is on new-issue deals, and the more aggressive investors can be on terms.  While the overall expansion is a bit higher than we typically see (day 1 expansion in 2021 was 1.8pts) the incremental "cheapness" required in deals will simply manifest itself in slightly wider terms; however, as that cheapness comes down, terms will improve.
New Issue Convertible Valuation
With the ever changing macro landscape, it is difficult to keep a pulse on where convertible terms are for issuers.  Convertible modeling is mainly based on two issuer-specific inputs (credit and volatility) and one macro input (rates).  Since convertible modeling is a bit opaque, it is difficult to understand how a change in each variable will impact the resulting convertible terms.  Matthews South has developed a model to use the inputs for a standard B-rated issuer (the most common type of issuer in the convertible market) to graph what terms look like on a daily basis.
The chart below shows the illustrative coupon of a 5-year convertible bond (assuming 40% conversion premium) for an issuer with tech-stock levels of volatility and single-B credit spread.  This analysis takes into account current market rates, credit spreads and volatility, as well as the amount of additional price concession or cheapness that has been required by deals in the last 3 months.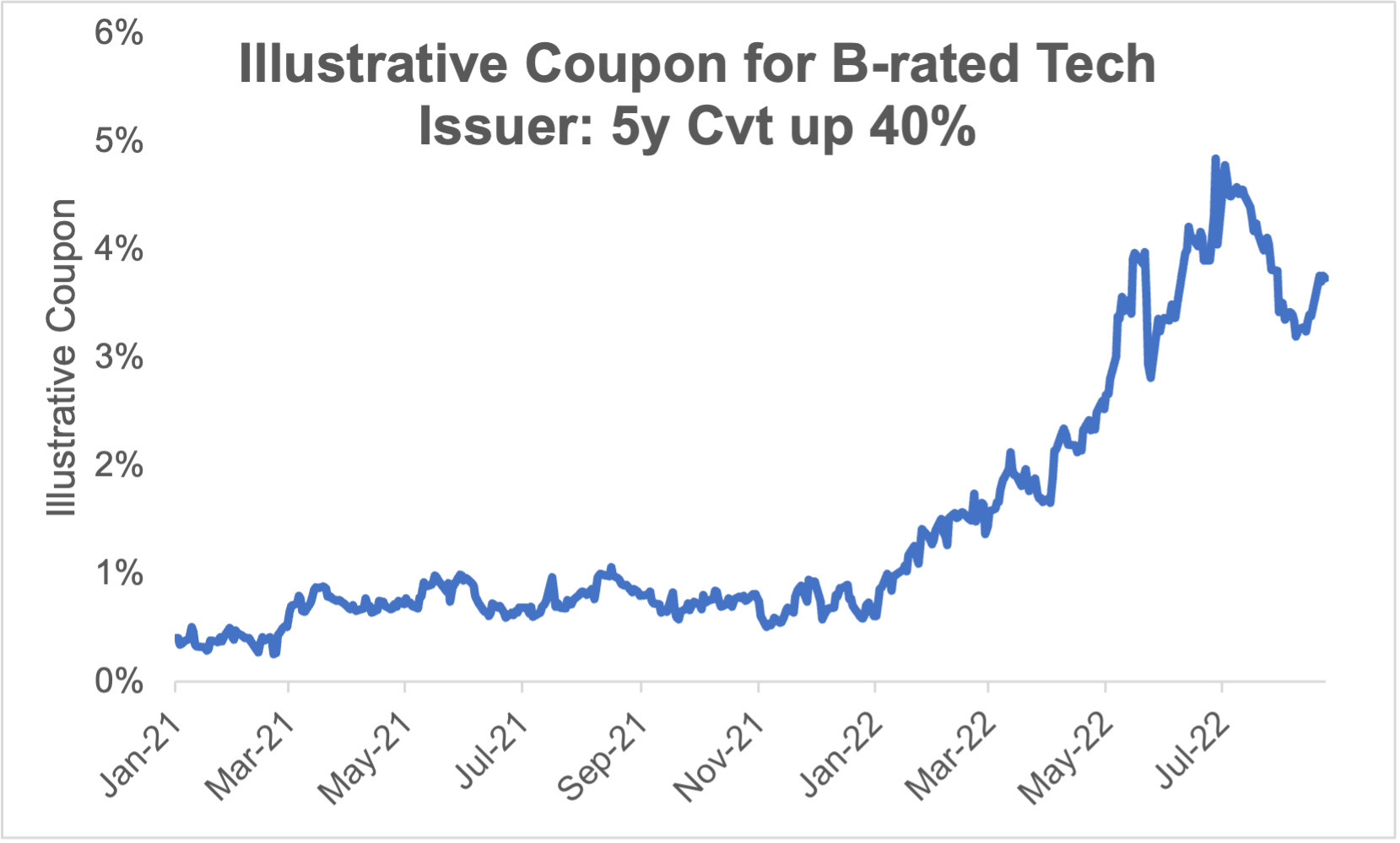 While the coupon and premiums are now less attractive than they were in 2021, a large portion of the change in terms is due to rates. By comparison, straight debt coupons have moved even more than that of the convertible market. Additionally, we have now seen terms improve from the local minimum in June. Rate moves aside, we think the issuer-specific inputs and terms will continue to improve as we head into the fall.
Conclusion
Issuers looking to raise capital should continue to monitor the markets because the new issue market is open. However, the overall market sentiment can change quickly. So issuers should prepare in advance, be flexible in both timing and structure, and stay up to date on pricing dynamics across markets to best decide how and when to implement their financing plans.
Markets are constantly evolving, so please reach out to the Matthews South team to see what terms may look like under the current market conditions.
1 We limit our view of trading prices to bonds with $250mm+ outstanding and with actual trading activity, to ensure reliable market data.
Personal Views: The views expressed in this report reflect our personal views. This blog post is based on current public information that we consider reliable, but we do not represent it is accurate or complete, and it should not be relied on as such. The information, opinions, estimates and forecasts contained herein are as of the date hereof and are subject to change without prior notification. The large majority of reports by us are published at irregular intervals as appropriate in our judgment and ability to produce, so updates may not be made or available even when circumstances may have changed.
No Offer: This analysis is not an offer to sell or the solicitation of an offer to buy any security in any jurisdiction where such an offer or solicitation would be illegal. It does not constitute a personal recommendation or take into account the particular investment objectives, financial situations, or needs of individual clients. You must make an independent decision regarding investments or strategies mentioned on this website. Before acting on information on this website, you should consider whether it is suitable for your particular circumstances. You should not construe any of the material contained herein as business, financial, investment, hedging, trading, legal, regulatory, tax, or accounting advice. The price and value of investments referred to in this analysis and the income from them may fluctuate. Past performance is not a guide to future performance, future returns are not guaranteed, and a loss of original capital may occur.
No part of this material may be (i) copied, photocopied or duplicated in any form by any means or (ii) redistributed without the prior written consent of Matthews South, Inc.